October 14, 2021 0 Comments English
The best Senior Health Care in Tampa FL
Senior Health Care– Are you 65 or older living in Tampa, FL? Find out about the benefits of being a My Doctor Medical Group patient.
Primary care, private transportation, pharmacy and more.
Healthcare and well being for seniors
Several studies and specialists recommend seniors to prioritize taking care of their physical and mental health. For this reason, we have thought of the different services our seniors need when visiting a clinic for their routine check-ups.
We are a medical office that provides primary care, laboratory services, pharmacy and even transportation, picking you up at your doorstep. The best part of being our patient is all the additional services we offer, as they bring well-being and happiness to those who are part of My Doctor Medical Group family.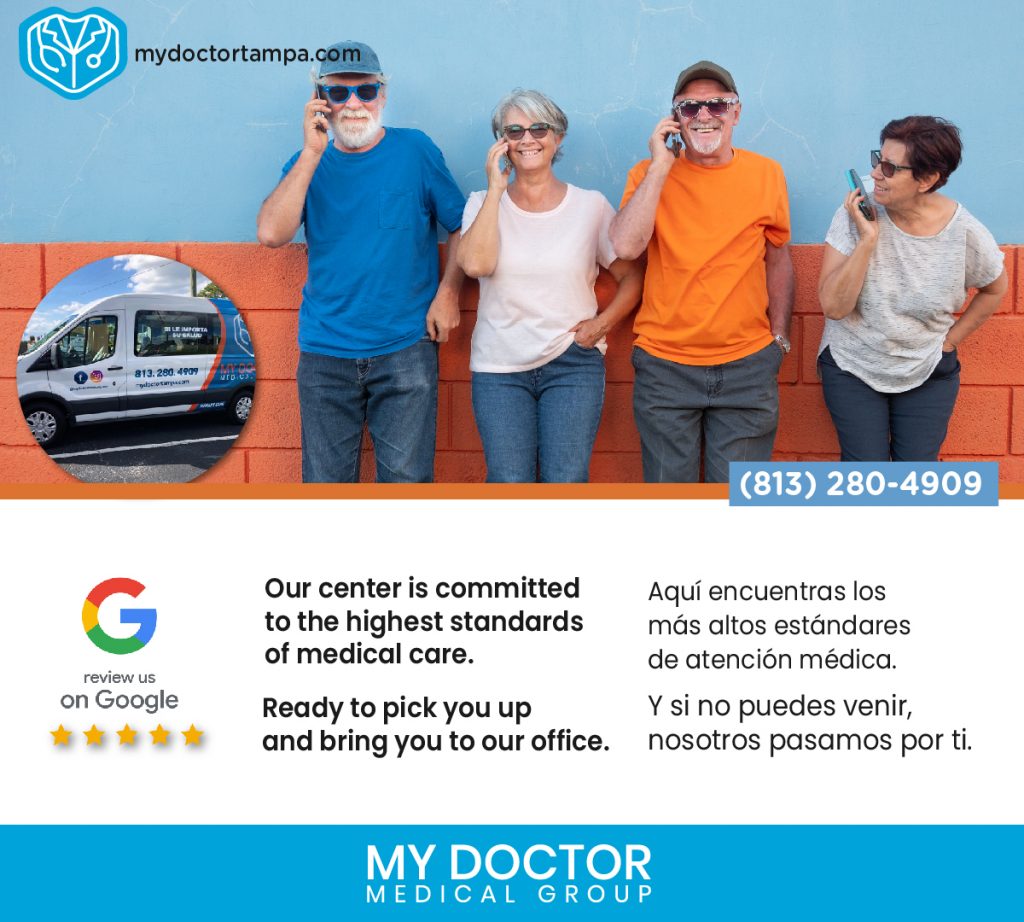 Why choose us? | Senior Health Care
Many people mistakenly think that reaching a certain age can be a negative thing. They relate old age with problems, uncertainties and sadness. In addition, the difficulty of carrying out certain activities in their daily life independently. As well as including different activities on their schedule, such as visiting doctors more often.
Taking all of this in consideration and in order to improve the perception of a check-up from a "I must visit my doctor" to a "it' s time for my visit!", we offer the following benefits at our clinic:
On-site Pharmacy; you can pick up your prescription at the clinic or it can be delivered at your doorstep by calling us at (813) 666-3832.
Home visits: if you are unable to visit us at our clinic one of our doctors will visit you right in the comfort of your house. (We follow government health regulations).
Book your appointments online at our website: www.mydoctortampa.com
At our Access Center, we will assist you with any paperwork or transaction you need help with
We pamper our patients at My Beauty Salon, a perfect spot for relaxing and returning home happy.
We stay in touch by reminding you of your routine visits.
We organize events on special dates throughout the year to celebrate with our community.
We promote seniors' care through our Social Networks with tips and day-to-day life recommendations.
Our professional team is bilingual: English and Spanish.
Our doctors are committed to assisting and helping each one of our patients in order to provide them with the best quality of life possible.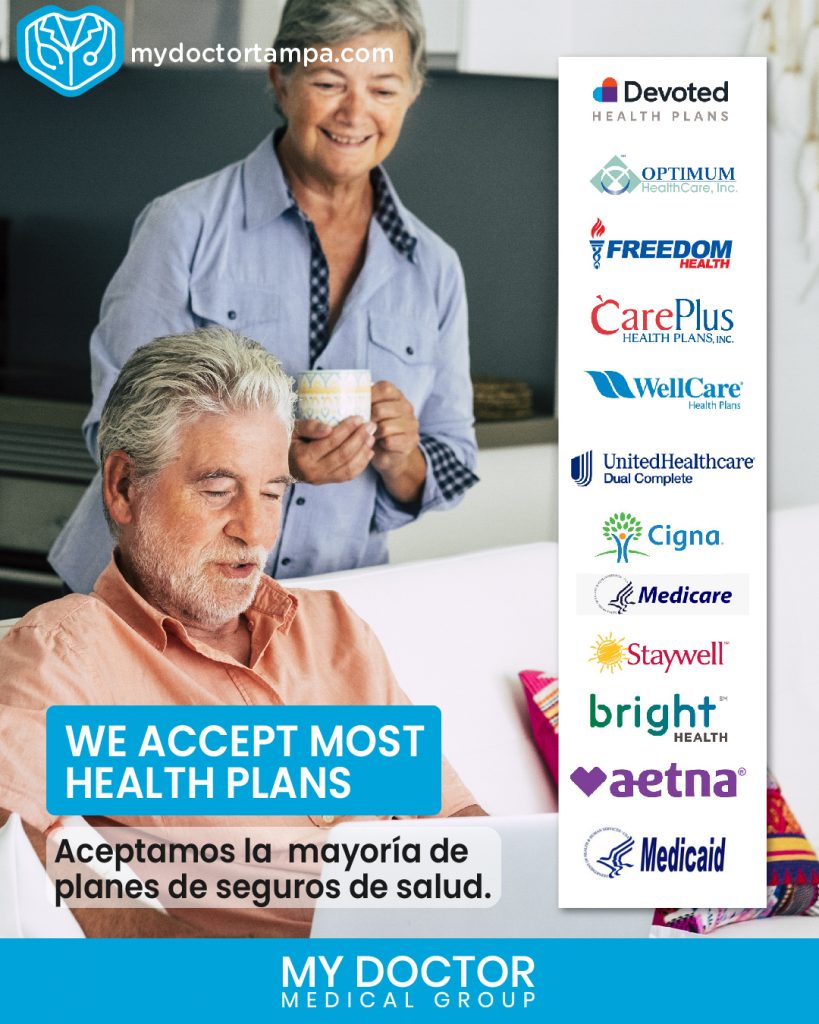 How to become a patient? | Senior Health Care
We accept most health insurances at our clinic. For a more personalized assessment, call us at (813) 280-4909 or write to [email protected].
What our patients are saying about us?
Quote: "Everything was excellent at this clinic. The attention is very good, the affection and love patients are treated with, is the best medicine. "

Testimonial Video | My Doctor Medical Group
The importance of an excellent Customer Care Service for Seniors
According to a recent publication of the World Health Organization (WHO), there are currently around 600 million people over 60 years old who will double in 2025. The aging stage is a natural and irreversible phenomenon that leads to choosing better health in order to have a good quality of life.
Therefore, at My Doctor Medical Group we prioritize our patients' experience every time they visit our clinic. This way, we encourage seniors to take care of their health and visit doctors for their routine check-ups.

Another relevant point is interpersonal relationships for our seniors. Many people associate getting older with the loss of roles in our society and the reduction of friends or family bonds. The pending activities are usually reduced and simplified in medical or relatives visits. Our team at My Doctor Medical Group, in addition to providing excellent customer support, organizes activities on special dates such as Mother's Day, Grandfather's Day, etc. Our priority is to build a Seniors Community with new ways of living this stage and improving their quality of life in every aspect.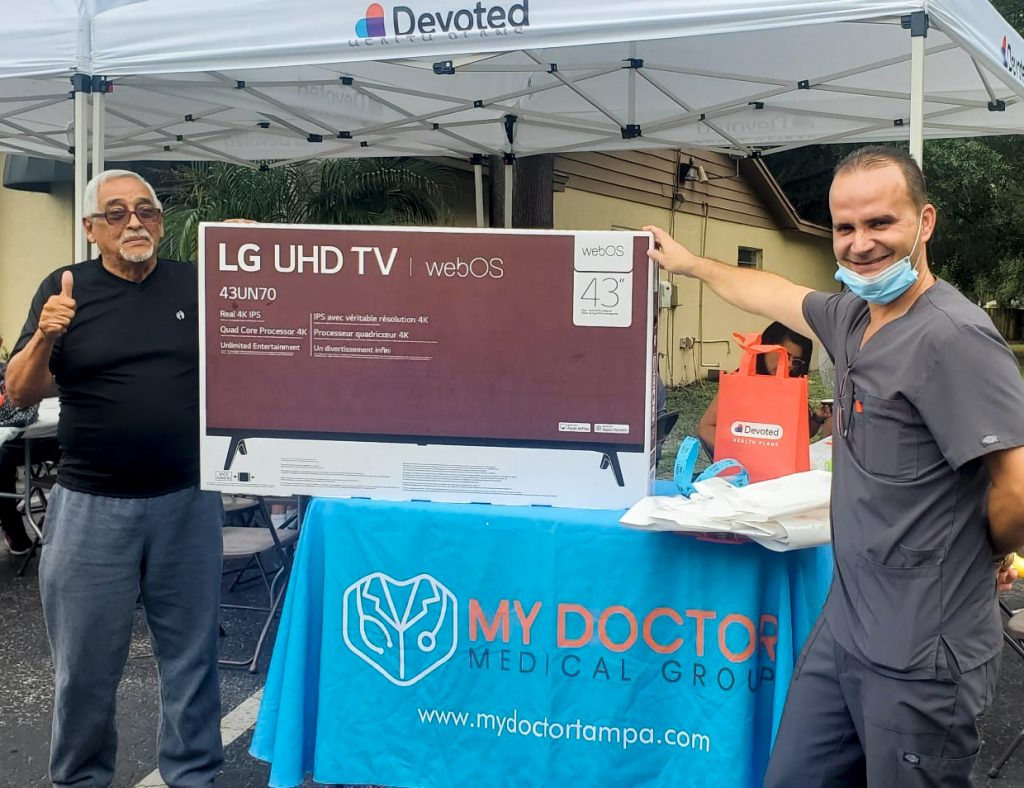 Find out about the latest news and activities of our community on Facebook, Instagram, LinkedIn and YouTube. Do you want to be part of our My Doctor Medical Group family? Call us at (813) 280-4909 or message us at [email protected]
See you at our clinic!
6822 W Waters Ave. Tampa, FL 33634 | Senior Health Care

---