March 20, 2022 0 Comments English
How to become part of My doctor Medical Group family?
This article will tell you how to register in our medical office in order to be able to schedule your visits. Become a member of our family and enjoy the exclusive benefits of attending a specialized clinic in seniors care.
Care and Medicine for seniors
If you are over 65 years old and you are looking for a clinic, for different reasons such as improving your health care, changing your insurance, or moving, you have come to the right place. This article will explain the steps and points to consider according to your health insurance plan.
¿What is Medicare?
It's a medical insurance that people can access from 65 years old onwards. You can choose these options, during certain times of the year, and also according to your coverage. Divided into two main forms, Medicare Original and Medicare Advantage. Treat yourself by having either of the two options at our clinic located at 6822 W Waters Ave – Tampa, FL 33634.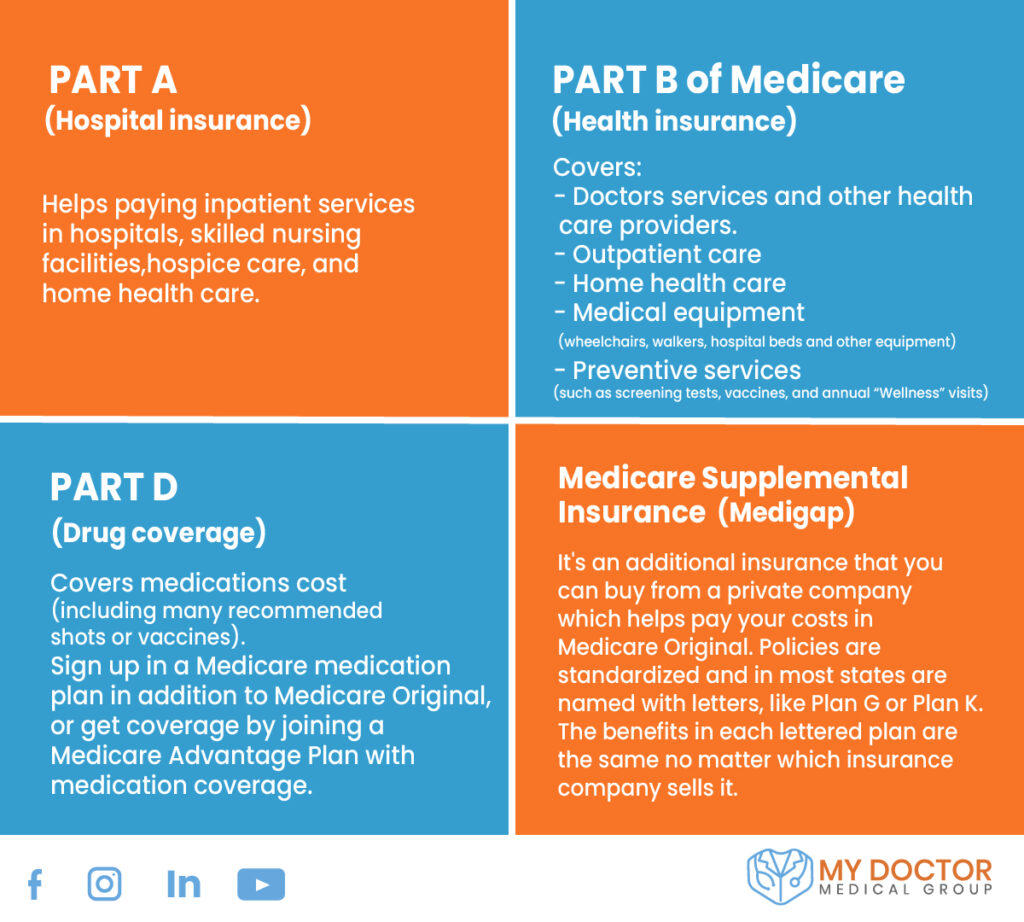 Medicare Supplemental Insurance (Medigap)
It's an additional insurance that you can buy from a private company which helps pay your costs in Medicare Original. Policies are standardized and in most states are named with letters, like Plan G or Plan K. The benefits in each lettered plan are the same no matter which insurance company sells it.
How to choose a Medicare option?
Your health is a priority. We recommend you carefully evaluate the options advantages and each included part.
Medicare Original:
Includes Parts A and B. To get Part D, you must join a detached Medicare medication plan to get drug coverage.
You can visit any doctor or hospital that accepts Medicare throughout the United States.
To help pay for direct expenses, it is recommended that you purchase supplemental coverage such as an insurance policy or having coverage as a former employer or trade union. (Medicaid).
Medicare Advantage:
An alternative for health and drug coverage. This "package plan" includes Part A, B and generally Part D.
Enables access to doctors in the plan's network. These plans may cost less than Medicare Original.
Plans may offer other benefits such as vision, hearing, or dental services.
Where and how to sign in Medicare?
In order to join us, you will need to answer some questions on the Medicare page about your individual situation. Login here. With this information provided, you will be able to know how to sign up and the date according to your allowed coverage.
You can also contact the Social Security line at 1-800-772-1213. Remember that registration requirements will depend on your case.
How to find out if you are in the right period of time for your registration?
Down below we will explain the enrollment period or plan changing.
Initial enrollment period (for the first time)
Open enrollment period (for plan change or abandonment) between October 15 and December 7 of each year. Coverage begins January 1.
Open Enrollment Period for Medicare Advantage. Between January 1 and March 31 of each year. If you are enrolled in a Medicare Advantage plan, you can switch to a different Medicare Advantage Plan or to Medicare Original (and join a separate Medicare drug plan) once during this period.
For more information about registration periods go to https://www.medicare.gov/sign-up-change-plans/joining-a-health-or-drug-plan
Need help choosing the right plan?
Procedures are a headache, including information on the website, and since in our Clinic we accept most insurance plans, you have the possibility of calling our Access Center and we will guide you through the entire process. You just have to call (813) 280 4909 and ask directly for Lety Salvador or Claudia Miranda. They will be advising and accompanying you when you visit us for your medical check-ups.
Your experience with us will start from the first call.
Become part of our family | Care and medicine for seniors
In addition to helping you with the Medicare enrollment requirements, we support you with the information requested by the Florida Department of Children and Families. On the other hand, we provide assistance with health insurance plans, food and financial aid, and health plans assistance.
For being part of our My doctor Medical Group family you will receive a Welcome Kit that icludes a pill box, pens, flannel bottle opener, a calendar and a notepad to be ready for your next visits.
*If ynou are a Devoted patient, a sippy cup for your natural beverages will be included.
It is worth mentioning that we are the Clinic with the best recommendations in Tampa, FL. You can see what others are saying about us by searching us on Google or visiting our Youtube channel to see our patients' testimonials. Also, our quality of patient care earned us the highest recognition from Devoted Health for clinical measures and patient care excellence in 2020.

---